MLA: Everything You Need to Know
A complete guide for formatting your paper in proper MLA format!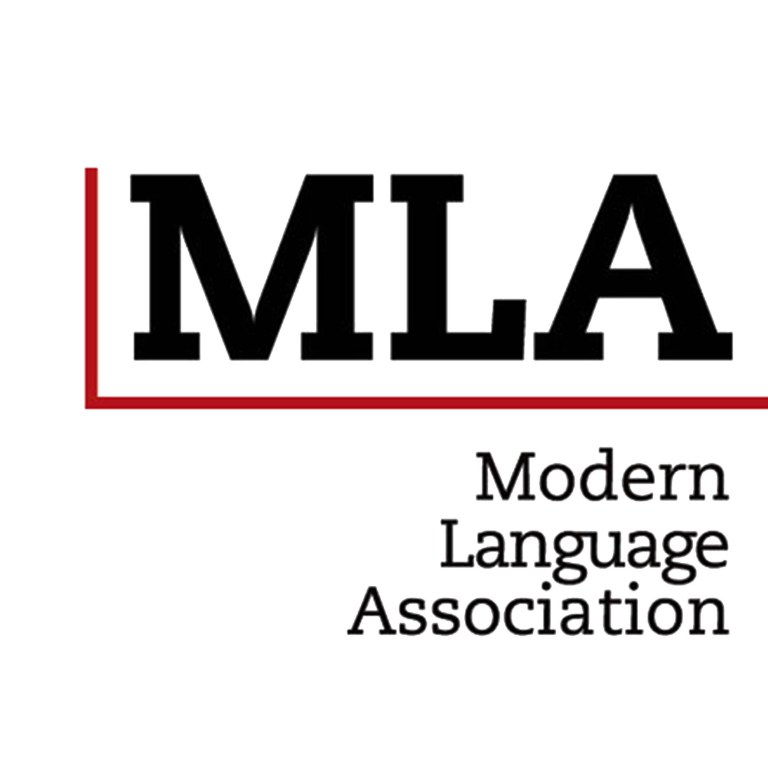 English assignments can be daunting enough as they are, and worrying about how to properly format your paper is an added layer of stress.
For those afraid of losing points, MLA is an endlessly exhausting process. For those past the point of caring about the details, MLA is an unforgivingly severe mark against you.
Yet, MLA doesn't have to be this way. Despite its tedious nature, MLA does have a purpose: standardized formatting allows writers to increase credibility by providing readers with an easy-to-navigate list of sources. In more professional settings, MLA is most widely accepted for its reputability. After all, an essay is meaningless if the author is not credible!
This article serves as a complete MLA guide for a Ewing High student's purposes.
Setting Up the Document
In Google Docs, a shortcut for setting up your entire page exists! Woohoo! To do so:
Select

"File"

in the menu
Select

"New

" and choose the option

"From template"

in the box that appears
Scroll down to the

"Education"

category, select

"Report MLA"

: this will create a template in MLA format for you to replace the text!
If this shortcut is used or the application is not Google Docs, make sure:
Text is in

Times New Roman, size 12 

All sides have a

one-inch page margin

(typically the default, but you can check in Page Setup)
Last name and page number on

top right corner

[Insert-Header and Pg Number-Top Right]
Double Spaced

Title is centered,

and there is no space between this line and the start of the essay
First Page Information
The left side of the first page includes certain information about your assignment in a specific order:
First Last
Teacher
Course Name and Semester 
Due Date
In-Work Citations
When directly quoting or paraphrasing another piece, in-work citations are mandatory. An accusation of plagiarism is enough to drop your grade significantly, if not to a zero- definitely not worth the risk! The rules for in-work citations are fairly basic:
Books, journals, websites, albums, blogs, tv shows, magazines, and newspapers are 

Italicized

 

The Crucible

predicts the destructive outcome of trusting a fantasy.

In The London Times, a timely account of the moon landing displays the editors collective beliefs.

Articles, poems, interviews, and songs are written

"in quotes"

"Harlem" is a political poem that criticizes American politics for deferring action on equal rights.

Following quoted or paraphrased lines, cite the source using

(Author page)

. When ending your sentence, the final punctuation should be on the outside of the citation! Works without page numbers can be cited using paragraphs; typically this is written with "par." before the number.

Miller speaks through the voice of Proctor as he asks "Is the accuser always holy now?" (Miller 73).
Successive quotes from the same text can omit the author's last name and only use number.
When the same author is sourced in two or more different works, the citation reads (Author, "Work" page)

As Christianity teaches, "there had to be witches in the world or the Bible lied" (Miller, "Why I Wrote" par. 15).
Works Cited
After your essay is completed, MLA requires a standardized "Works Cited" page.
Select

Insert, Page break

to begin new page (header and page number should appear!)
Align text to

center

and title Works Cited (not in italics or quotes!)

This is not a bibliography, so don't title it one! Bibliographies contain sources the author used to gain background information, whereas works cited are sources actually mentioned in the work. In high school papers, works cited is likely all to be asked of you. Additional bibliography information can be found here. 

Move text to left margin and cite sources in

alphabetical order

. Formatting changes depending on what media you are sourcing:

BOOKS

: Author last, first. Title. Publisher, Year.

ARTICLES

: Author last, first. "Title of Article". Newspaper/Blog name. Publication date.

VIDEO: 

Title of video. Date of publication. Website (like YouTube). Date accessed.

TWEET:

Last name, first (Username). "Entire tweet". Date posted, time viewed. Tweet.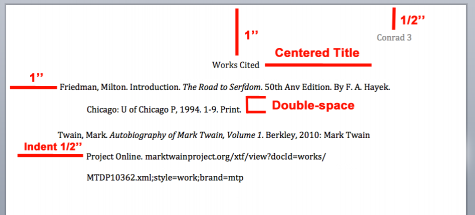 If anything is still unclear, please leave a comment and I'll be sure to update any additional information!