Golden Globes: Sparking the 2019 Award's Season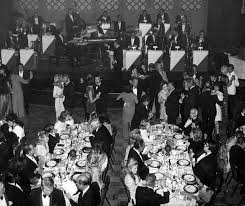 Stephanie Falzone, Class of 2022, Contributor
December 20, 2018
Not only is it the holiday season, it's also award season. Coming up are the Golden Globes, the first award show happening in 2019.
The awards are given by the Hollywood Foreign Press Association for domestic and foreign brilliance for anything in film and television. This 2019 will be the 76th award show.
"I couldn't stop looking at the award when I received it. It was as if my whole career flashed in front of me, from beginning to the moment I was handed the Golden Globe." said Sharon Stone.
The first ever Golden Globes took place in January of 1944, at the 20th Century Fox studios in Los Angeles, California. There were four awards handed out, and about three films that made up all the winners of the show. The Song Of Bernadette won best picture. Today, in 2019 however, it will be held in Beverly Hills California, and there are 25 nominations.
This years hosts of the award show are Andy Samberg from "Brooklyn Nine-Nine", and Sandra Oh from "Killings Eve". Each of them have been Golden Globe award recipients, and have really expressed their ability in television and film, to be the hosts of this years show. A few years ago Andy Samberg made a speech and many wished he had hosted the award show.
"This is it. The final award of the night. It's been another classic Globes, so many memorable moments. Tom Hanks barfed. Rob Lowe fell off a balcony right in the middle of Cosby's surprise appearance and full confession. Patrick Stewart removed his bald cap and revealed he's had a full head of hair for years," Said Samberg, according to a Newsweek Article, after the 73rd Golden Globes aired.
Another legendary aspect of 2019's Golden Globes, is a new award. This year, Carol Burnett is receiving the first ever television achievement award, for her popular, outstanding talent and venerable act. The award will then be named after her and known as the "Carol Burnett Award." This award will be given out yearly at the Golden Globes furthermore.
"Equivalent to its film accolade counterpart, the Cecil B. DeMille Award, the Carol Burnett Award will be presented annually to an honoree who has made outstanding contributions to television on or off the screen," said in a Fortune Article by the press association.
There are four categories for best motion picture, and twenty movies nominated. One of the fan favorites is A Star Is Born.
"What makes Lady Gaga the most eligible to win for her performance is that she really stripped herself down as 'Ally' to make the character so in depth."said  Sammy Muscente, EHS Class of 2019.
Another top pick up for best motion picture, Black Panther.
"It was a great addition to the marvel universe, it really pulls the story together." said Kiyara Sickles, EHS Class of 2022.
Lastly, one of the favorites this year, Incredibles Two.
"It was a long fourteen year wait, but it was a really great movie. I like how they went into more of elastic girl story, as the first movie was more about Mr.Incredible. I loved how they focused on the kids more because they were very entertaining. This movie was a little more darker than the first movie, but overall it was great." Makyah Queen, EHS Class of 2022.
In addition, there are two categories for best television show, and ten nominations. One of the highlights being "Sharp Objects".
"Amy Adams gave an outstanding performance." said Melissa Falzone, EHS parent.
Lots of people have also agreed with that statement, and Amy Adams is nominated for best actress in a limited series or motion picture made for television.
Who do you think will take home the most awards this year? What show do you think will bring home most of the awards? Tune in to find out on NBC at five to eight for the red carpet pre show, and eight to eleven for the annual 76th Golden Globes.
Don't miss the chance to see your favorite actors and actresses walk down the red carpet in Beverly Hills 90210 on January 6, 2019!