The "Marvel"ous Life of Stan Lee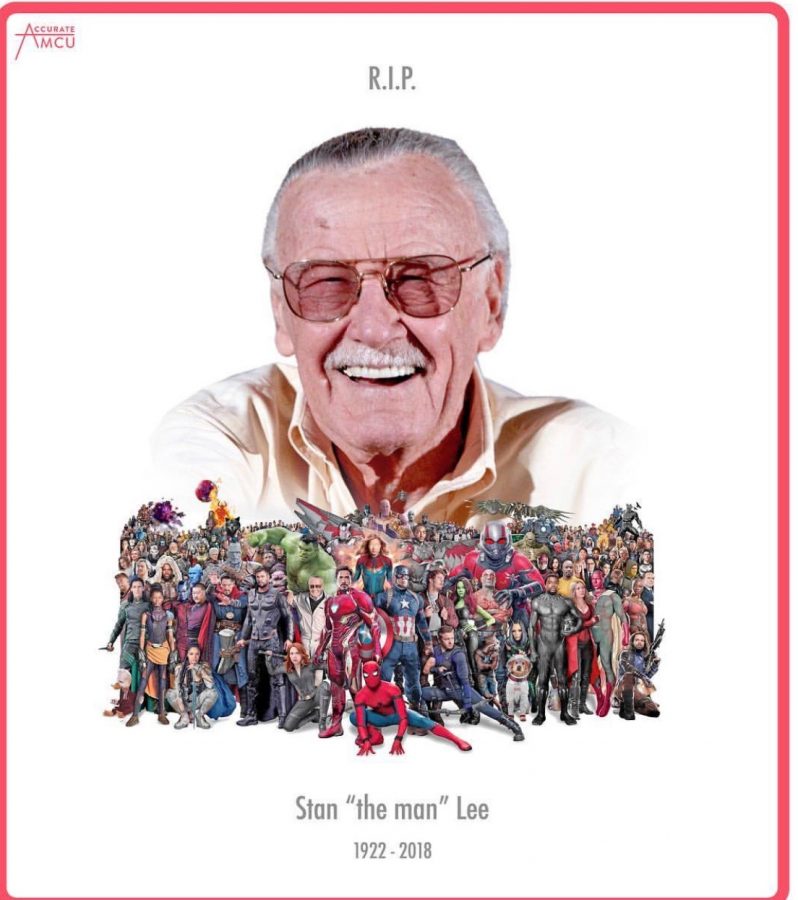 Carlos Torres, class of 2019, Contributor
November 19, 2018
Marvel comics creator, writer, editor, and Legend Stanley Martin Lieber; better known as Stan "The Man" Lee, has recently passed away on November 12, 2018.
Lee was rushed to a hospital after falling ill in his home, where he eventually died of pneumonia. He is survived by his only daughter J.C. Lee while his wife Joan passed away in 2017 after 69 years of marriage. Born in New York city in 1922, he was 95 at the time of his passing.
The daughter went on went on to say, "My Father loved all of his fans. He was the greatest and most decent man," according to an article in Esquire.
Stan Lee worked for the Marvel company way back when the company published under the name Timely Publications in 1939. Eventually in 1961 the name of the company was changed to Marvel Comics when Lee met comic artist Jack Kirby. Together the pair went on to create Marvel's first Family group, The Fantastic Four; featuring the iconic characters Mr. Fantastic, The Invisible Woman, The Human Torch, and The Thing.
Lee however did not stop there and eventually went on to create many more beloved and iconic characters that are still selling comics to this day. Some of these characters include The Amazing Spider-Man, The Invincible Iron Man, The Incredible Hulk, Dr. Doom, The Eternals, and even The Avengers. With Lee responsible for the creation and ideas behind more than 100 Marvel comics Legacy characters the list could go on and on.
It is no understatement to say that Stan Lee's involvement in the company, helped to bring it to where it stands today as one of the biggest comic publishing companies of all time.
Stan Lee had a way of adding depth and emotions to the characters he helped create to show the average reader that while his characters were in fact superheroes, they were still HUMAN and faced many hardships that the common person would as well as saving the world. It was this human aspect of these otherworldly and God-like characters that fans learned to love and followed over the years as time went on and the fans aged; the characters aged with them as well.
From 1939 up until 2018, Stan Lee created stories and characters that touched his fans worldwide and connected them through a shared love of adventure and entertainment.
Stan Lee has stated, "I used to be embarrassed because I was just a comic-book writer while other people were building bridges or going on to medical careers. And then I began to realize; Entertainment is one of the most important things in people's lives. Without it they might go off the deep end. I feel if you're able to entertain people, you're doing a good thing." in an article on The Washington Post.
Stan Lee may have seen himself as just a comic-book writer but to all of his beloved fans he truly was Stan "The Man"; A living legend who may now Rest in Peace. Excelsior.