It's Halloween Season, Here's a Movie You Should Watch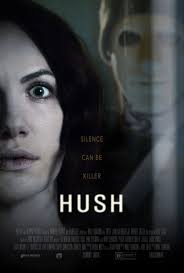 Stephanie Falzone, Contributor
October 29, 2018
It's almost October 31. Halloween, the day when Michael Myers comes back to spook us all! Ha, just kidding that's only a movie….or is it. Yes, everyone has either watched or knows of Halloween. It's a classic horror movie to watch this time each year. But Hush is a different kind of scary. Halloween is your traditional slasher film. Hush is ¨intensely terrifying¨. It not only includes the concept of a killer trying to murder a innocent young girl, but she's deaf, which makes the movie ten times more suspenseful and terrifying to watch.
The movie is about a young girl, she is a writer and lives in the woods…alone. Which if you ask me is like asking for something bad to happen. Anyway, a man in a mask shows up at her sliding glass door, quickly to figure out she is deaf. He takes her phone, takes a picture of her, and sends that picture to her laptop, which is the start of the movie. This edge-of-your-seat thriller will be sure to make you jump at least once or twice.
Hush has a very interesting concept throughout the whole movie. The producers are Jason Blum, who also produced Get Out, Sinister, Insidious, and Paranormal Activity. And the other producer is Mike Flanagan who produced Oculus, Absentia and Ouija: Origin Of Evil. It has a lot of good features to it.
Another Hush review said, ¨Hush is exactly what it should be: lean, scary and skillful enough to temporarily restore your faith in the horror genre.¨ It not only incorporates the classic horror into it, but also adds logical features to make it even more enjoyable to watch. The movie will end and leave you thinking.
There are a few downsides to the movie as well. If you aren't into gore and violence then you should probably be cautious while watching the movie, if that. There are graphic injuries and a lot of blood, gushing, dripping, and flowing. The movie may come off at first as you generic dull home invasion. But if you give it a try, you'll see it has a unique storyline and a intense thriller to watch.
It's almost Halloween, and if you haven't already watched a horror movie, now is the time. It is on Netflix, you can rent the movie, etc.. It's sure to be a good movie, and you won't be let down. Watch it with your family, or you friends, or your dogs. Grab some halloween candy and prepare for a adrenaline pumping, scary thriller! And remember, it's just a movie.