LGBTQ+ Americans Are Being Targeted With Hundreds of New Bills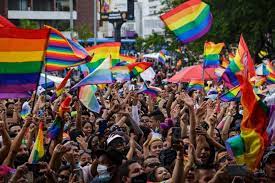 It has only been a few months into 2023, and more than 385 anti-LGBTQ+ laws have been introduced in thirty-seven states. This year has been a record breaking year, as it has introduced more anti-LGBTQ+ bills and laws, then the past five years combined.
If you've been following this situation, most likely you've seen Tennessee and Texas pop up on the news for introducing some of the most damaging, and rights-infringing laws and bills.
In Texas, lawmakers will be debating bills that restrict the teaching of gender identity and sexuality, as well as blocking trans kid's access to healthcare regarding their transitions, and preventing people from performing in drag. Some bills want to block children under the age of eighteen from hormone therapy, puberty blockers, and other medical treatments that help transition according an article on the Texas Tribune.
Another bill wants to classify some of the treatments listed above as child abuse, if used to help a child transition. Senate Bill 1601 would withhold funding from municipal libraries if they should hold any events where a drag performer were to read to children according to the same article.
A House Bill is taking inspiration from last year's "Don't Say Gay" bill in Florida. That bill wants to ban lessons about gender identity and sexuality before ninth grade in charter and public schools. Meanwhile, a Senate Bill wants to completely ban the teaching of gender identity and sexuality for all grades unless age-appropriate or necessary.
In the first week of March, Tennessee became another state to have banned gender-affirming care. Tennessee also was the first state to ban drag shows altogether. Advocates are worried that the ban on drag may be used to target the rights of trans people. 
We're approaching the fourth month of 2023 now, and this is only just the basics of bills targeting LGBTQ+ people. There are so many more states trying to pass these bills through, and so many more intricate bills that states are trying to pass. It won't stop here, as more and more bills are being proposed, in hopes of silencing people's voices.
For information on what is happening in other states, check out the links below.
More Information:
https://www.usatoday.com/story/news/nation/2023/03/08/arkansas-senate-transgender-bathroom-bill/11431418002/
https://www.kcci.com/article/iowa-senate-advances-two-anti-lgbtq-bills/43241565
https://www.kansascity.com/news/politics-government/article272893730.html