EHS Musical 2023: Aida
A preview of the this year's musical
Excitement always surrounds EHS' drama program and its productions, and as March closes in, so does their biggest production of the year: the musical. This year's selection, Elton John and Tim Rice's Aida, will be the first to be staged in the school's newly renovated auditorium. As a member of the cast myself, I'm quite sure I speak for everyone when I say that getting the show together has been easy as life.
At its core, Aida is a story of forbidden love in a time of war, set in Ancient Egypt. It sees Aida, the Nubian Princess, and Radames, the Egyptian captain who enslaved Aida and her people, slowly develop an undeniable love for each other. As their love grows, so does their peoples' need for them to fulfill their responsibilities, leading Aida and Radames to each make an impossible choice: follow their heart, or take the reins and lead their people.
In order to execute Aida to its full effect, actors not only had to work to learn all of the songs, dance choreography, and blocking, but they also had to understand the full story of the show. Aida touches on uncomfortable topics in today's society, including slavery, and without knowing the entire narrative of the characters, it would seem that Aida and Radames' relationship is solely slave and slave master. As Ms. Monaco, the show's lead director, emphasized, though, Aida and Radames' love for each other is genuine and consensual; to further emphasize this, certain scenes where Aida and Radames are together have been blocked so Radames refrains from making any advances towards Aida until she makes the choice to do so herself.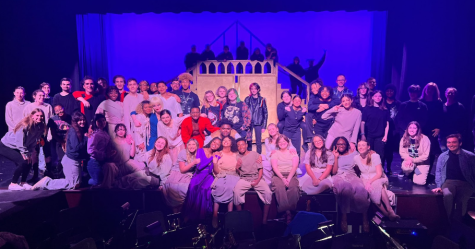 Adjusting to the themes of Aida certainly hasn't been easy for the cast. Senior members of the drama program have only done comedies up to this point, so doing a drama, especially one this content-heavy, has been a major change. On the flip side, newer members to the EHS musical scene have found themselves in a very complex show as their first at the high school level. That complexity that the show holds has created mixed feelings among the cast about the characters and their intentions, especially considering how the show ends. In addition, not everyone shares the same views on the themes of the show. Despite their varying takes on Aida's message, though, one thing the cast does agree on is that this show has characters that truly feel real; all of their emotions, connections to each other, and flaws are ones that all of us have, as they're what make us human beings.
All in all, Aida is truly a remarkable show. Despite all of the tragedy that is experienced by the characters, there's still a beauty in their resilience as human beings, something that Monaco hopes audiences will perceive. Additionally, however they choose to view the overall message of Aida, Monaco aims to have the audience understand the original intention of the show and Aida and Radames' relationship. It's truly been a challenge for the cast to not only learn the songs, choreography, and blocking for the show, but to interpret its themes while embodying characters they weren't familiar with and might not be comfortable with either. The amount of time and dedication they've put into all of this, though, is something that they hope will show when they step on stage and let this timeless love story unfold. Tickets are on sale now, so buy yours for any of the showtimes listed below and show your support for the EHS drama program!!
Thursday, March 2nd, 2023, 7:30 pm
Friday, March 3rd, 2023, 7:30 pm
Saturday, March 4th, 2023, 2:00 pm
Saturday, March 4th, 2023, 7:30 pm