Music of 2022 – Best Releases
As per every year, many artists and bands have released fantastic LP's (albums), EP's (shorter albums), or mixtapes that sat at the top of people's lists. The way music evolves and changes over the years is always interesting to see, and some of the best releases can represent the future and what's to come. Hopefully, you can find something worth listening to from some of these and take the music in for yourself.
Titles which are Bolded and Underlined are project names, which can be found in order in the photo below. Titles that  are only Underlined are songs.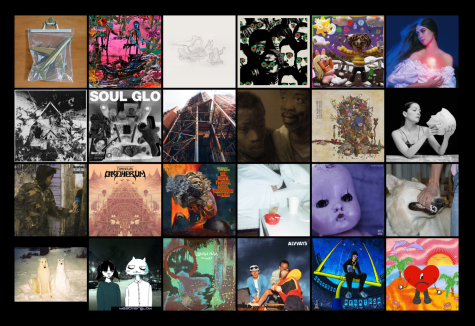 To begin, 2021 and 2022 have been very important in terms of UK Post-Punk Revival. Bands like Black Country New Road and Black Midi both released fantastic Albums in 2021, and came back again with brand new and even better ones in 2022.
The prior of which, who came out with Ants From Up There is my personal favorite release of the year, along with very many other people. It is a sometimes upbeat, sometimes mellow Art Pop/Indie Rock album that will almost certainly give you a feeling of longing and passion while listening. Songs such as Chaos Space Marine, The Place Where He Inserted the Blade, and Basketball Shoes are among my favorites, although every song is amazing.
Hellfire by Black Midi has a similar vibe, where some moments are significantly more upbeat, however the tone is overall noticeably different. Lead singer and guitarist Geordie Greep has to be one of the most talented people ever, with wildly fast-paced vocals and guitar strumming to match. The title-track Hellfire demonstrates how fast this guy can talk. Song Still is much more laid back, switching up the vocalist for another member, Cameron Picton. Other tracks The Defence and Sugar/Tzu are my favorites.
Indie/Folk band Big Thief comes back with another outstanding project Dragon New Warm Mountain I Believe In You. While a mouthful, this peaceful, almost country-like album is a soothing listen, especially with female lead Adrianne Elizabeth Lenker who strikes a resemblance to Dolly Parton, with a sound straight out of Tennessee despite being from Brooklyn. No Reason is my favorite song by a long shot, very melodic and has a great flute solo.
A few hiphop and rap albums stood out this year, but none more than Cheat Codes, collab album between Black Thought and Danger Mouse. Stacked with features from people like A$AP Rocky, MF Doom, Joey Bada$$, Conway the Machine, Run the Jewels, and more, it makes for an exciting experience from start to finish. Danger Mouse's production has been seen with MF Doom before in 2005 project, THE MOUSE & THE MASK, and it continues to flow perfectly with whoever is rapping on each track. Strangers is a great song with one of my favorite Killer Mike verses.
Ex Reptillian Club Boyz member Lil Shine's breakthrough Losing Myself is yet another extremely unique album, taking elements from both Pluggnb and Hyperpop genres. Almost like a combination of artists Midxwest and Yeat, no moment throughout the whole project is even close to boring. Creating something as great as this being only 17 years old is a feat not matched by many. While not the most accessible, if you can vibe with it, this could become one of your favorite albums of this year as well. Songs Truth Hurts and Told Her are fantastic, with their more melodic approach. For a more generic but still great track, listen to Tempo.
Critically Acclaimed artist Weyes Blood releases And In The Darkness, Hearts Aglow will fill you with all kinds of emotions, but above all else simply appreciation for an outstanding vocal performance pulled together with just as great production. Soft piano melodies through each song and outstanding singing help this to rise above a lot of other albums this year. Songs It's Not Just Me, It's Everybody, God Turn Me Into a Flower, and Twin Flame are among the best.
Recently, a genre has emerged combining rap with heavy metal influences. Backxwash releases album HIS HAPPINESS SHALL COME FIRST EVEN THOUGH WE ARE SUFFERING, a bit of a letdown to me. Her last album was one of my favorites of the previous year, but this one feels more empty. In a better light however, three-member group Soul Glo who has risen to even more popularity thanks to critics released Diaspora Problems, an aggressive take on this scene, with considerably more punk influence, but still retaining hip-hop roots. The electric guitar blasting chords on each song fills you with energy and a feeling of wanting to destroy everything in your path. Song Thumbsucker remains my favorite, but Driponomics has a great, more notable rap style to it.
While not my taste, many critics flocked to both of New York rapper Billy Wood's new albums, Church and Aethiopes. The lackluster flow on each song combined with the melodic samples doesn't resonate with me, but I'd still say to check it out, as it's widely liked by many others.
The Ruby Cord, by English folk-inspired artist Richard Dawson is a breath of fresh air from a lot of the more condensed projects I was listening to this year. This is a very open and light album, and honestly quite beautiful from start to finish. The first track, while taking up about half the runtime of the whole album stays interesting in a very layed back way. The song Horse and Rider is by far my favorite from this project, which contains one repeating melody throughout that is played on various instruments, notably a fiddle (i believe) to start off. An amazing genre-fusion album we got this year.
Well known Mexican singer-songwriter Natalia Lafourcade releases De Todas las Flores, keeping classical Latin music alive. Simple, yet effective instrumentation with a harp and acoustic guitar give way to a plethora of enjoyable songs. While not something to listen to whenever, it is something that can easily be admired for its greatness and not taken for granted. While all the songs are very similar on this album, the instrumental opening on Vine solita caught my attention quick.
Buffalo's Conway the Machine who's been dropping back to back to back projects over the last couple years keeps them coming with God Don't Make Mistakes. Raspy voices in rap music have always been great to me, and while not on the level of someone like Pop Smoke, his voice isn't crystal clear. The Alchemist-esque production is absolutely fantastic. Influence can also be observed from Westside Gunn (who is actually featured on John Woo Flick) with identical adlibs and a resemblance in the flow. The features on each song are what really makes this album, with some smaller names along with much more well known ones like Rick Ross and Lil Wayne, both on track 2 Tear Gas. What this album does best in my opinion is the transitions from verse to verse. Perfection. Out of any project this year, this one is the best in terms of production by a mile. If you like any rap music at all, please, please give this a try.
Psychedelic and equally progressive band King Gizzard & The Lizard Wizard went kind of insane this year, with not one, not two, but 5 whole releases. Omnium Gatherum is great and showcases their style well, but it doesn't quite match up with Ice, Death, Planets, Lungs, Mushrooms And Lava. Almost like a modern-day take on 70's band, Grateful Dead, this is by far one of the more unique and interesting releases from this year. Each song is long (another similarity to older psychedelic bands), with the shortest being 6:41 and the longest being 13:27. Iron Lung and Mycelium are two of the best songs here. Lead singer Stuart Douglas Mackenzie's layered vocals are one of my favorite parts of this album, and a great technique to achieve a cool sound (essentially layering 2 vocal tracks on top of each other, one low and one high. You can also notice within his vocals that he sings much more with his throat than straight from his mouth. Repetitive track Lava definitely gives you the feeling you're climbing a huge mountain, and slowly reaching the top, being filled with determination.
SLOWCORE!!! I love slowcore. A genre pioneered by Duster, which is a great band to mention, as they reunited this year to bring us Together, a great full-length album. Retrograde is a must listen, great vocals, great guitar, great song. On the same topic, rising star Elliott Fullam who appeared in Terrifier 2 as Jonathan brings joy to my ears with What's Wrong. Simply, yet so incredibly effectively, this album combines relaxed emotions with sad and melancholic ones, creating an amazing listen for anyone who is familiar with the genre. Sign Crushes Motorist and Birth Day, two monikers used by the same artist both have releases from 2022, respectively being i'll be okay and Boyhood. By far some of the most depressing albums I've heard, they don't fail to deliver a flood of sadness with each song. I can't recommend one song on either more than the next. Both have an overarching theme of longing and what those feelings can lead to.
My favorite artist Asian Glow rose to popularity this year, thanks to his collab project with Weatherday titled Weatherglow. While an amazing EP that most definitely deserves a listen (Clockwalk around the Ache and Jet are very underrated), he did release another album this year which I prefer. Titled Stalled Flutes, Means, this album combines all kinds of instruments, and I feel it went really underrated this year for how good it was. Some songs build up to huge moments and some songs are quieter with a mellow tone all the way through. Either way, check it out; Sneezing : Seasonal Creators is my a great song.
Blue Rev by Alvvways is a pop-esque project which is highlighted by it's use of heavy mixing. Lead by female vocalist Molly Rankin, this has some moments which stand out, especially on songs like Tom Verlaine where the vocals prevail so much over the instrumentals, a common theme throughout. I was surprised to find out the lyrics were all in English, thanks to the pronunciation through a lot of songs. Pressed is very upbeat and fast paced, with instant transitions between different elements of the song. Overall, great, great release.
One more extra album I want to highlight would have to be Un Verano Sin Ti by Bad Bunny. Not much to explain as it is already very popular, but it is also one of my favorites from this year.
My last pick for one of the greatest albums this year is Megatron by XXL Freshman Class's fan vote winner Babytron. With a very innovative and creative style of rap, his songs are based all upon his flows from bar to bar. The transitions are often instant and fast paced, easily keeping the attention of anyone listening. Many songs from this project rose to popularity this year, but my favorite remains Crocs & Wock'.