The Road To Change Could Honor Vanessa Gullien
"I am Vanessa Guillen Act" The Vanessa Gullien story
It was April 24, 2020, when they first announced the disappearance of Vanessa Gullien to the public. Vanessa was a Fort Hood Army specialist who disappeared on base. She disappeared on April 22, 2020, and was just 20 years old. Two months after her disappearance, she was found dead near the Leon River in Belton Texas. This left many people with the same question of how a soldier could go missing and end up dead on a military base.
Vannessa was born in Houston Texas, to two Mexican immigrants Rogelio Gullien and Gloria Gullien. She had two sisters and was the middle child. Right after high school, she enlisted in the army because she had always dreamed of serving her country. She was first stationed in South Carolina, Virginia, and later stationed at Fort Hood. Fort Hood is the fifth largest army base in the United States.
On the day of her disappearance, Vanessa was called to come to work on April 22, 2020. During the day her family realized something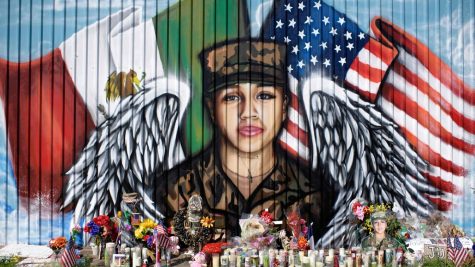 was quickly wrong when she didn't answer her text message. She was last seen in the parking lot of her headquarters, which was the Regimental Engineer Squadron and all her personal belongings were where she was working earlier that day. Without hearing any information from Fort Hood regarding Vanessa's disappearance her family began to take matters into their own hands.
Her sister Mayra Gullien posted to her Twitter about Vanessa's disappearance. This post gained lots of attention from media outlets and those in the Hispanic and military communities. With no answers, the Gullien sisters started to reach out to people to protest with them so they could receive answers about their sister's disappearance. They also reached out to a military lawyer Natalie Khawam to help them with Vanessa's case.
On one occasion, Vanessa told her mom that she had been struggling at Fort Hood and that she was one of the many young women and men being sexually harassed. Not only that but by a superior, a SERGENT! Knowing this Mayra posted this information online after Fort Hood ignored their allegations. Due to the post, many people could share their stories and experiences in the military. Starting the #IAmVanessaGullien.
June 30, 2020, was the day they finally recovered Vanessa's remains. Two months had passed since her death, and there were finally some advancements to Vanessa's case. There were also charges against Specialist Aaron Robinson and Cecily Aguilar for her murder. The very next day, Robinson escaped military custody and was able to shoot himself, causing his death.
Throughout the investigation, Aguilar changed her story many times and because of Robinson's death, she was the only one to be charged with Vanessa's death with one count of accessory murder and three counts of false representation.
Vanessa's death caused her sisters to fight for change which is why they wanted to create a bill that would criminalize harassment and sexual assault under the Uniform Code of Military Justice. The bill was signed on December 2021 by President Joe Biden, and it changed how military bases could now handle harassment and sexual assault cases.
Vanessa's story not only changed how harassment was handled on military bases, but it also gave many women and men around the country a voice. Even though there are still problems within the military and its rules this bill was one step forward to change.