Come Bee Supportive of Ewing High's First Live Play In Two Years
Get ready! After much anticipation, the Ewing High Play Program (EHPP) has reopened for business. The students of Ewing High have been busy at work trying to get back on track for a live showing.
Now after 2 years of no live audience, Ewing High is now preparing their showing of The 25th Annual Putnam County Spelling Bee. This show features a comedic take on the mundane act of a spelling bee, "A riotous ride, complete with audience participation, The 25th Annual Putnam County Spelling Bee is a delightful den of comedic genius. The small cast and unit set make this a perfect option for high schools or community theaters. The 25th Annual Putnam County Spelling Bee is a fast-paced crowd pleaser and an instant theater patron favorite." The Website reads (https://www.onthestage.tickets/show/ewing-high-school/the-25th-annual-putnam-county-spelling-bee-96236/about)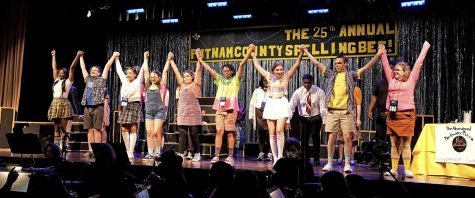 Ewing High students have dreamed of the days of a live show finally returning after such a long time due to world events disturbing their usual yearly play. For both 2019 as well as 2020 Covid-19 managed to put a damper on the EHPP after the CDC announced the risk that it would pose before vaccinations were readily available. Now, after the booster shot has been approved and infection rates are lowering all across New Jersey, Ewing High faculty have allowed the club to provide a live showing to the public.
During the pandemic, the club suffered the biggest hit after receiving the news that they would have to record their performance of the school play and upload it onto the internet for parents and the public alike to watch. This was devastating for them as they had been prepping for a live performance since the program had been opened back up for students just in time for virtual students to begin returning back to in-school teaching. "Life threw an unexpected situation at all of us," Maureen, a junior and stage crew member elaborated, "Virtually recording the play lacked a pushing force, something for all of us to be excited about".
So now, after finally being allowed to perform the play live, audiences and performers alike are excited and ready for the showing of the spelling bee. "The staff and students involved in this production of The 25th Annual Putnam County Spelling Bee had to adapt constantly.  We learned how to put on a production during a pandemic, we learned how to adapt to new and ever-changing environments, our students proved their creative abilities and resourcefulness in countless situations," Mrs. Caldwell, the director of the play, states.
 "This community has thrived, chuckled and persevered in the face of uncertainty.  In the face of a challenge, I've asked this group to collaboratively create, to grow and to stay open in obstacles," The director continued.
Performers in the play have been looking forward to live showings of their performances, "The energy overall is different" Daniel B, a senior pit orchestra student said.
"Doing the musical after years of nothing live allowed us to finally get back into the swing of things. We got to rediscover how to work as a team to put on a show that people will remember." Collin R, a class of 2025 member, as well as a spelling bee contestant said.
On Thu. Mar 3rd 2022, 7:30 pm
Fri. Mar 4th 2022, 7:30 pm
Sat. Mar 5th 2022, 2:00 pm
Sat. Mar 5th 2022, 7:30 pm 
The EHPP will be showing off their acting skills in their rendition of the book, originally written by Rachel Sheinkin. The show will be about 1 hr and 50 minutes long with a 15 minute recess. Grab your friends and stop by to show your support for the Ewing High Play Program!