Girls Varsity Basketball team breaks 30 year drought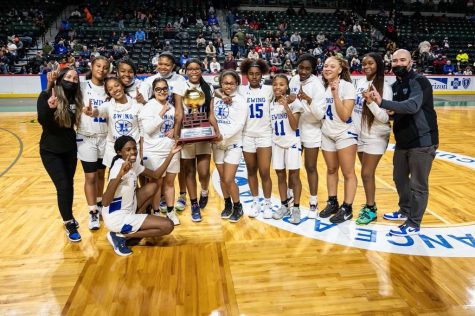 The last three times the Ewing High School girl's varsity basketball team made it to the finals of Mercer County Tournament they were handed hard defeat's by local rivals Notre Dame.
Last night the Irish's luck ran out. Before a crown of fans at the Cure Insurance Arena in Trenton a determined Blue Devil Squad was crowned champions, a title that has eluded the team since 1992.
"Timely offense and in-your-defense" were keys to last night's victory said head coach Daniel Montferrat.
The team has cruised through the tournament defeating Nottingham, Princeton, and Pennington on route to the final round of the championship.
Rhian Stokes was named tournament MVP with 25 points in the final game with 5 assists and 5 steals.
Te'Yala Delfosse had a stellar game with 10 points and 18 rebounds.
Additionally, Joi Johnson's monster performance with 10 blocks, 9 rebounds, and 8 blocks help to seal the Blue Devil's win.
The team has the weekend to relish their hard work and accomplishments but it's back to work next week in preparation for the State Championship!
Good Luck Ladies, Let's Go Blue Devils!!