Map Of The Soul: 7- BTS and their Legacy
The seven who dared to dream and define Korean pop music.
The Beginning of BTS
A global sensation with over 259 awards won world-wide, they are the South Korean boy band that is not only winning over stardom, but our emotions. They are BTS (Beyond the Scene), a group of seven members that all have a love for the art of music and have shared it with us all.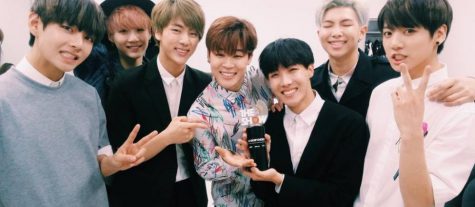 Formed in 2010 by auditioning for Big Hit Entertainment and finalized in 2012, they made their debut in 2013. Their first album released was 2 cool 4 Skool, winning several New Artist of the Year awards in South Korea. Later on, the band evolved with different themes, continuing with their "Skool" theme, The Most Beautiful Moment in Life, Wings, and Love Yourself (Pt.1 and Pt.2).
Their breakthrough in the US came in 2017 with the release of their song "DNA" where they won a billboard music award for Top Social Artist.
The members consist of: Jungkook, RM, J-Hope, Jin, V, Suga, and Jimin. All of them come from humble beginnings and have either been experienced in music and have pursued it during their personal time before BTS had been started.
One of the members, RM, states in a 2017 interview with Elle Magazine, "I loved writing lyrics for rap when I was in junior high. I loved studying, but somehow I wanted to be a rapper who can write and rap."
J-Hope adds, "When I was a little kid, I simply loved music and enjoyed expressing myself with my body. Everyone liked me when I went up on the stage at a talent search in elementary school, and that's when I decided to become a music artist."
However, they have not stopped there. Since then, they have released two EP's: Love Yourself: Tear and Love Yourself: Answer. On February 21, 2020, Map of the Soul: 7 was debuted and topping UK and Australian charts in its first week.
Map of the Soul: 7
"Black Swan" was the first song of the album released on January 17, starring a European dance troupe immersed in a hypnotizing, dance-heavy music video. With this teaser, many fans suspected that the album would focus not on a particular topic, yet on the members themselves and their personal feelings.
This had been previously touched upon by American singer Taylor Swift in her albums Reputation (2017) and Lover (2019) as she had vocalized her past triumphs and present feelings about her career.
Lyrics in "Black Swan" gave this away, "But I'll never get dragged away again. Inside, I saw myself, myself…".
Twelve hours prior to being revealed to the public, BTS had promoted their song "ON" with a 30-second video clip which sent fans into a frenzy on TikTok, a video social media platform. A viral dance challenge was inspired with an almost inevitable downstream effect.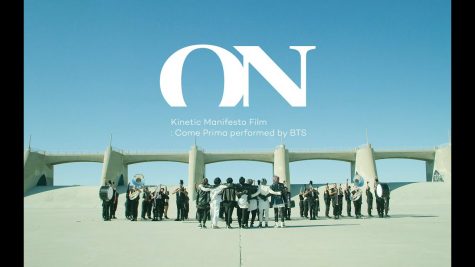 Afterwards, the group of seven was seen on the late night show Jimmy Fallon in which they preformed "ON" at Grand Central Station. With the area all to themselves, the walls rattled with their vocals and the ground shook from their dance.
Other songs in the album, such as "Louder Than Bombs" has a melodic touch and a harmonizing echo after each syllable. What draws the listener in is the effect in the background of the song with a low bass rumble that continues throughout.
Most notably, the lyrics are what mainly stand out:
"Now it has grown to be so clear, 
The unfamiliar shadow amidst those cheers,
Perhaps I wouldn't be able to believe the words, 
'Let's see and hear only good things,'"
On the digital media site Genius where individuals comment on song lyrics and annotate them for accuracy, one user wrote regarding the the beginning "Louder than Bombs" lyrics, "After a long time in the music industry,they already had figured out that will always bad things or the obstacle behind those happy thing or in their case the fame they had now."
The lyrics are constantly referencing a shadow of some sort or a being that continues to follow them. When entering the music industry, BTS rapper RM states, "My songs have made me someone who constantly observes society and wants to be a person who can have [a] better, positive impact on other people."
The shadow that always lurks in the crowds is a representative of themselves that the people constantly see, but don't actually have anything to credit it to. It is as if the members are trying to tell their audiences that the people that they perceive them to be is not who they really are (a common misconception in the music industry). The things that define who they are in the eyes of their fans are also not as positive as they think which is why they are unable to "see and hear only good things" ("Louder than Bombs").
The first lyric of their song "ON" is vocalist Jimin saying, "I can't understand what people are sayin' Who and what do I need to follow,"
Again, another reference to their image as well as the crowd in front of them. Up until this point, BTS has addressed how hard they intend to keep working for their fans and the sacrifices they are willing to make as a result of maintaining a close connection between the two parties at play here. Although, it seems as if in Map Of The Soul: 7, the fourth wall is being taken down to fully convey their feelings towards the matter of not only being a part of the crowd, but allowing themselves to be separate individuals, characterized not by their flaws, but by their triumphs.
Moreover, the realization comes not only with a call to the subject matter, but action. Another phrase in "ON" which Jimin had sung, "With each step then again grows the shadow." They know that as they go forward, the criticism will not stop and eventually the people they once were will forever continue being a mystery. BTS may have wanted fans to see this as a plead to be more understanding as they move into the future together where in there song "We Are Bulletproof: The Eternal" they say, "Oh, I we were only seven I But we have you all now…Throw me a stone we are not afraid anymore… We did it in the face of negative eyes,".
The rest of the album has singles from members Jin, Jungkook, and V that all gear away from focusing on being individuals and define  who they really are.
In Jin's "Moon" we see him speaking to a metaphorical being that he wants to start a relationship with, but cannot due to his status as well as the way he is idolized. When he says, "Everyone tells me I'm beautiful, But my sea is black, Star that flowers bloom and sky is blue Real beauty is actually you,". He is expressing his, what seems to be, satisfaction with this being that he admires and how he cannot reciprocate in value. He goes onto sing that even if the person chooses to discover him further beyond his appearances, they may be disappointed to discover his, "…hurting wound."
Nonetheless, Jin chooses in the ending of the song, to, "…circle around your side I will stay by your side, I will become your light, All for you." staying by the being's side no matter the obstacles to come ahead.
For those of you who prefer a more modern type of love song that talks about the struggles of modern love, "Filter" sung by BTS' Jimin is the one for you.
Both a guitar ballad in the background and smooth, light melodies to even out the extremity of the vocals are what make this song so likable.
In the song, Jimin is constantly telling someone to focus on the relationship they are having, to put their phone down and look him in the eyes or if they can lend him their eyes and he will put them in his hands. The most significant part of the song is when he tells the person to pick the "Jimin" they want to see.
"Inner Child" reminisces about the past and how things have changed, yet as they move forward the group will continue to do their best for their fans and appreciate the support they have received throughout the years. The song also appears to be speaking in the first person to the singer, V, himself as he states in the chorus of the song, "You at that time didn't believe in galaxies, It must have hurt, it must have been so difficult, I ran towards the endless light,". At first, they didn't think that they could make it nor if they could make their dreams come true, yet they have.
I asked EHS Freshman Emilia Carbajal on what her thoguhts on the new album in addition to BTS in general over an interview:
Lina: "What is different about BTS that you don't find in other artists?"
Emilia: " I think probably they're concepts. A lot of K-pop groups have different kinds of concepts, but BTS' is really unique for their kind of demographic… Not a lot of boy groups do a lot of lure when it comes to their concepts. But BTS does it and you can theorize about it and its fun."
Lina: "How is Map Of The Soul :7 different from other albums BTS has released?"
Emilia: "First of all, it's really hyped up. Not that they weren't hyped up before, but I did watch them win their first awards and here they are now preforming at the Grammy's. But also because its their first album with actual collaborations. Most of their other albums- well, actually, all of their other albums don't have any songs with western artists on them and this is their first one I think."
Lina: "I have noticed by listening to the album that BTS has took time to focus more on themselves in this album instead of others. They had lyrics about their reputation and their future ahead. So why do you think that they are choosing to do this now- to sing about how far they have come?"
Emilia: "Well I think now they've really made it, like people know their name. In 2015, they weren't even a big name in K-pop let alone the world and they've brought it up in their past albums where they want to go- they have a clear path for them. And I think now that they have accomplished a lot of goals on that, they can reflect on it and see how much they've changed in the past."
Lina: "I know that some members of BTS are going into the military due to the mandatory call that South Korean boys must take to serve in the military for at least two years. Do you think that this is a farewell album? Or do you think that there is more to come from BTS?"
Emilia: "I think- no, there are definitely more songs going to come, but I see this more as like another door opening- a different path because not all of the members are the same ages, so they probably won't enlist all at the same time. So they will probably keep making music, but not have all of them there which is going to suck for a little bit, but eventually you will have all of them back."
Lina: "Thanks Emilia!"
Emilia: "No problem!"
As Emilia said above, the album is more like a reflection than anything else. BTS has made a name for themselves in the last seven years since they have been together. They want to take the time to reflect on that and make it known that they came together as individuals and not beings who are merely for the eyes of the people. They want an egalitarian relationship between their fans where both parties are respected. Moving forward, they are excited to continue making music and doing so in a more personal, transparent manner. Even if they are not coming back as one whole group in a few years, they are still going to be around in our lives and continue to spread their unique and meaningful messages to the younger generation.
Their Legacy
BTS started out by being the amateurs of K-pop and watching as others win awards and walk off the stage with screaming fans. They were not well-received by the public at first due to the juxtaposition of their "bad-boy" persona and their true personalities. After their album "Skool" Luv Affair, they transitioned into the lighter topic of being part of the younger generation in their EP Youth in 2016. That was when they started getting the attention from overseas viewers and many young women in South Korea.
In their album The Most Beautiful Moment In Life: Young Forever, the group's song "Spring Day" peaked at number one on Billboard's US World Digital Song Sales chart. This is when many started to give the group a chance as the song incorporated light harmonies with amazing vocals.
In 2016 they won the Mnet Asian Music Award for Best Music Video as views for "Spring Day" surged into the millions.
From there in 2017, their breakthrough hit "DNA" hit the Billboard Top 10 hit list and peaked on there for the next two months. That was when the United States was introduced to the phenom BTS.
Since then, there have been concerts, after photo shoots, and fan meetings that had their faces upon every building they attend. Invited on Ellen and speaking at the United Nations about how the youth should love themselves, there is nothing that is stopping them.
BTS Jimin stated in a 2017 interview," I wish BTS could set up a model for k-pop with the best music and content so we have a positive impact on the U.S. music scene."
Well, they have been and they will forever move forward together with their fans (ARMY). BTS was founded upon multiple members all sharing a common goal: Making music that will move their audiences. They have influenced not only Kpop, but the world music industry as a whole.
"Yes, look down on me like that, it's my hobby to prove you wrong." – Suga.