The Spread of the Coronavirus- and xenophobia
The damage caused by a virus is nothing compared to the the feelings of a minority.
With more than 900 deaths and the World Health Organization declaring it an international health emergency, the Coronavirus gave itself a demeaning reputation. However, as the disease continues to make its way around, it is not only the virus itself that is concerning us but the xenophobia along with it.
This is one of many instances where xenophobia has yet again taken a high toll on an Asian minority. It had all began when the Coronavirus spread from its epicenter in the Chinese city of Wuhan. Ever since then, many Asians, such as Leonard Kim, have been subject to an increased amount of racism.
Kim is a healthcare social worker in Paris, France and has observed that since the reporting of the virus he had been excluded by the society around him.
"I have lived here my whole life. Having my co-workers shun me for no reason is humiliating. Never would I have thought that they would be racist towards me. It's a shame." , Kim states over a personal telephone call. 
He goes onto describe that as an adult he can handle the pain and fight through this alone. However, some are not as resilient to these comments.
What Kim says is indeed true. If someone fears being judged by their ethnic background they may not be inclined to go to receive medical treatment if they are experiencing possible symptoms. Therefore, the virus will be much more difficult to contain and monitor.
"Stigmatisation is important. It does play into the physical aspects of the disease spread; they're not separable," said Harris Ali, a sociology professor at York University in Toronto in an Al Jazeera article
It is not only in the general public where there have been signs of xenophobia but on social media as well. Specifically, in France where the #JeNeSuisPasUnVirus , "I am not a virus" has taken twitter by storm. Many "French" users have used this platform to voice their opinions on the increased acts of racism that they see. Although these users are from France and are of Asian descent, they were never completely accepted as such.
Kim says that he, too, had experienced a similar feeling of exclusion even before the virus became a threat.
"In my early years, I remember going to school and learning about the history of France. The depictions of each battle would contain someone who had 'blonde hair and blue eyes' with the charisma of a true French man. It was at that moment that I realized that I will always stay outside of the majority."
The University of California Berkeley faced backlash due to an issued warning on their twitter page in which they implied that xenophobia was a normal reaction to the Coronavirus outbreak.
"Please recognize that experiencing any of these can be normal reactions and that over the next few days or weeks you may experience periods of… Xenophobia: fears about interacting with those who might be from Asia and guilt about these feelings.", the post said.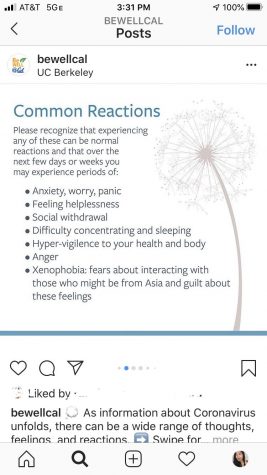 They did apologize to the staff and students who observed the mistake. Yet, it brings up a point of how xenophobia has always been around in our community. It is the fact that one fails to see it due to what is reported daily by the media. During coverage of the virus, reporting has been conducted in majority Asian countries such as China and Japan, and show how people are trying to protect themselves.
"They only show those who are Asian, not some people in the United States who are trying to fight off the virus." said Anna Komogata, EHS class of 2023.
Komogata is a Japanese- American student at EHS and has seen this occur not only to herself but to friends as well. A family friend of hers who is Japanese, was afraid of contracting the Coronavirus after news reports showing majority Asians infected had her assuming that she would also be one of them soon.
"It is not only influencing others but our community. It's sad to see, but it's not as if we can undo what has been done.", states Komogata.
 The proper way to take precaution to this virus is not to utilize racism to make others feel guilty, yet by following medical practices that will scientifically make you more immune. As the Center for Disease Control and Prevention advises, you should wash your hands after being in contact with public facilities.
Humans have always had the "fight or flight" instinct within them. There has always been a need to survive no matter what the cost proves to be. It is in this instance, however, we see the "fight" instinct has evolved from a physical to verbal usage that purposely degrades others for personal gain.
It is as Nayan Shah, a USC Professor says,"…but these actions often do the insidious work of playing into already existing racial apprehensions and aggravating them into public anxiety,". 
At the end of the interview with Leonard Kim, he mentioned a well-known French quote," Ce ne pas regarder L'un L'autre, c'est regarder ensemble dans la meme direction." -Antoine de Saint Exupery. (It is not to look at one or the other, it is to look together in the same direction).