Political Profiling the Black Republican Woman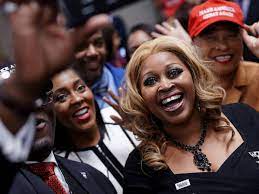 Patsy, Contributor, Class of 2021
May 20, 2021
(This poem expresses the ignorance that black female republicans like myself have to go through every day. Being apart of the opposite and not the norm or the "other". May the black republican women stand strong for you are not alone.)
Ignorance succumbs… some will… sordid minds.
The self despised as fellow Blacks malign
Bigotry's acceptance beyond the color line
History shows that it wasn't anomalous
"Blacks… loving the G.O.P?"
Appears asinine…
Due to this new color line
A woman's choice? Or the man's decision?
Feminists would question the routine. 
Yet not the procedure.
A woman's right to choose doesn't extend to her political beliefs?
If she disagrees with you?
Pro-choice? Pro-life. Black lives? All Lives. 
Pathetically watch as fellow women, minorities malign.
Hypocrisy waving it's harsh clear head.
The Black Republican woman seems a bit of a fantasy, enough said.
They are there, silent and yet painstakingly present.
One identity yet separate from the rest.
Had it not been for that color line.
Black, Female and Conservative?
Seem to fit nothing according to the narrative.
Is it a Right Wing conspiracy? Or a Left Wing aversion?
Nothing is beyond this circulatory color line.
Love, Owens, Klacik, Barnette
Strong powerful role models
Ones we take for granted
As women we have shown resilience
As we break through this color line